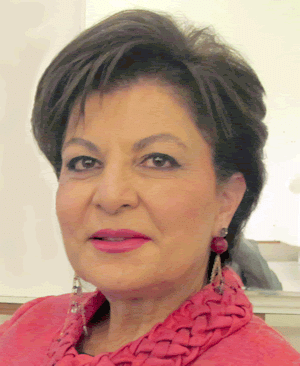 Homa Sarshar
is a published author and an award-winning journalist, writer, media personality, and lecturer. She is the author of two books and the editor of twelve other volumes, including five volumes of the Iranian Women's Studies Foundation Journal and four volumes of The History of Contemporary Iranian Jews. Her latest book Shaban Jafari was the number one best seller Persian book in Iran and abroad in the year 2003.
From 1964 to 1978, she was as a correspondent, a reporter, and a columnist for Zan-e ruz weekly magazine and Kayhan daily newspaper in Iran, where she also worked as a television producer, director, and talk-show host of National Iranian Radio & Television.
In 1978, Sarshar moved to Los Angeles where she resumed her career as a freelance journalist, radio and television producer, and on-air host. Since 1998, Sarshar has been working with a satellite television network here in the United States as a writer, producer, and host of various programs. Her show is broadcast weekly throughout the United States, Europe, and Iran.
In 1995, Homa Sarshar founded the Center for Iranian Jewish Oral History in Los Angeles, an organization that has succeeded in collecting a wealth of information and documentation about the life and history of Jews in Iran. Throughout her 40 year career with Iranian print, radio, and television, Sarshar has done more than 1500 interviews and has produced and anchored as many radio and TV program. She has also produced a collection of twenty video documentaries on exiled Iranian writers, poets, and artists, some of which has been acquired by the Library of Congress. Sarshar has received numerous awards for her work, including the Medal for Special Achievement in Women's Rights, given by The Iranian Women's Organization of Tehran, Iran; Journalism Award: Distinguished Iranian Women by The Encyclopaedia Iranica, and Commendation for community affairs services by County of Los Angeles.
Homa Sarshar has dedicated much of her life to various philanthropic ventures and has actively campaigned for many human rights and women's rights issues.
Sarshar was born in Shiraz on 1946, raised in Tehran and earned a BA degree in French literature from Tehran University, a Masters Degree in journalism from the Annenberg School of Communications at the University of Southern California, and an honorary Ph.D. degree in journalism from American World University.
Homa Sarshar Official Website – http://www.homasarshar.com