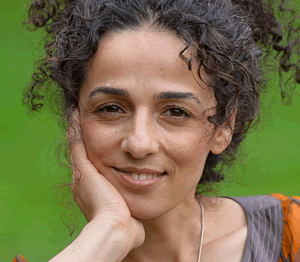 Masih Alinejad
Journalist
Alijenad was born as Masoumeh Alinejad but uses the first name "Masih" (anointed or Messiah) which is the title of Jesus of Nazareth in Islam and Christianity. Alinejad was politically active from a young age and was arrested as an activist for producing leaflets critical of the Government in 1994. Alinejad began her career in journalism in 2001 with Hambastegi daily and then worked for Iranian Labour News Agency (ILNA). Papers including Shargh, Bahar, Vaghaye.Ettefaghiye, Ham-Mihan and Etemad Melli have also published her articles. During the sixth and seventh parliament, Alinejad was the parliamentary reporter. In 2005 she wrote an article that showed a considerable sum of money was given to MPs as a New Year bonus. The article generated lots of controversy and led to her dismissal from the parliament.
In 2008 she wrote a highly controversial article in Etemad Melli daily, called 'Song of the Dolphins' where she compared Mahmoud Ahmadinejad's behaviour to the behaviour of dolphin trainers to dolphins. She wrote that the impoverished people who gathered around Ahmadinejad in his provincial visits to give him letters are similar to hungry dolphins that make sounds and perform entertaining acts to grab a morsel of food from their trainer. Some people regarded the article as very offensive towards the president and the people and eventually Mehdi Karroubi the director of the paper had to apologise for the article. Time Magazine published an article in this regard in 7 May 2008 titled 'Jesus' vs. Ahmadinejad.
In the summer of 2009, during her stay in the United States, Alinejad tried very hard to have an interview with Barack Obama; however, she was refused the interview although she was granted the visa based on having an interview with Obama. Her visa expired and she had to return to England. While in the United States, she participated in some of Iranian protests and delivered a speech in one on 25 July 2009 in San Francisco where she said, addressing the government authorities of Iran, "We have trembled for thirty years, now it is your turn to tremble." She was interviewed by VOA, which was shown together with parts of the videos she had made, called 'A Storm of Fresh Air.' In 2010 she and a group of Iranian writers and intellectuals established 'IranNeda' foundation. After the presidential election in Iran in 2009, she published a novel called 'A Green Date'.
Alinejad graduated in 2011 with a degree in Communication, Media and Culture from Oxford Brookes University.
Click here for more info.